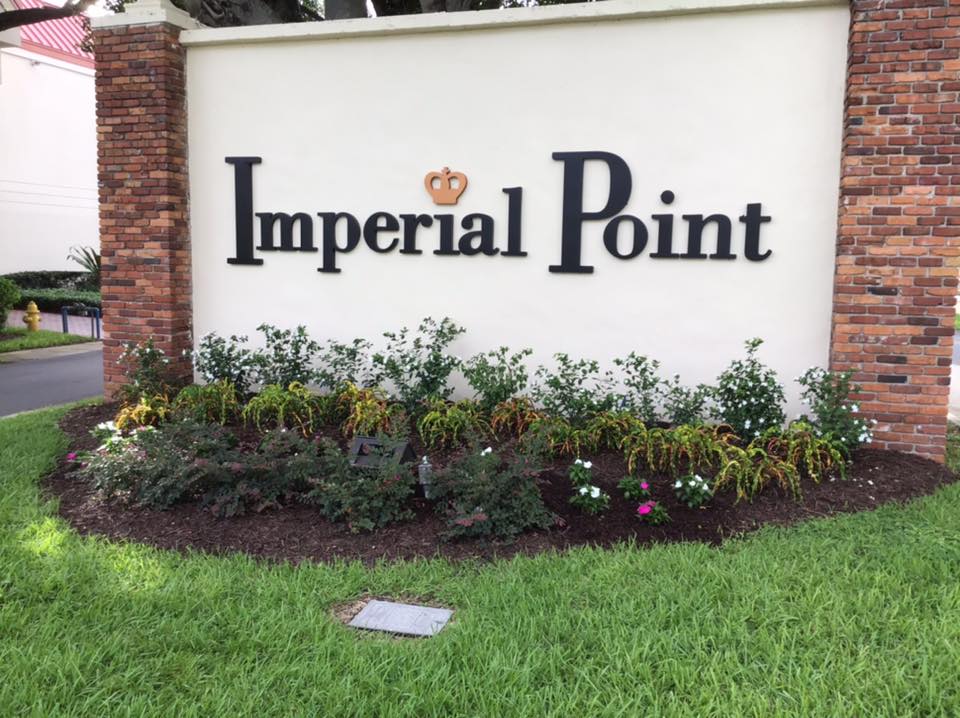 Imperial Point is conveniently nestled West of Federal Highway, North of NE 58th Street, East of NE 18th Avenue, and South of McNab Road in Fort Lauderdale, Florida. Incorporated into the neighborhood are the Coral Highlands, Westfield and Colonial Ridge. At our Northeast corner stands the Broward Health Imperial Point Medical Center and the neighborhoods shaded oasis, the Dottie Mancini Park. A variety of restaurants, specialty shops, grocery stores, acclaimed schools, places of worship, a hospital, library and countless service and special needs are all in close proximity to Imperial Point and its close too 1,470 updated homes in the neighborhood. We are happy to be a part of the wonderful and diverse communities that comprise our fabulous city in the City of Fort Lauderdale.
Imperial Point prides itself on developing opportunities for everyone who lives in our community. We are confident that whatever it is you're seeking can be found here. If you want privacy, you've got it. If you would like to get socially involved while meeting and interacting with your neighbors, Imperial Point is happy to provide you the outlets to do so. With scheduled events and extra-curricular activities all year round, we promise you that there's always something brewing here at Imperial Point.
In 1960, 62nd Street (Cypress Creek Road) was a pond with fish and birds and alligators  in the middle of a landscape of white sand. There were acres of undeveloped land and unincorporated areas above Oakland Park Boulevard. The following year, just a few miles up Federal Highway, behind an elaborate brick entrance way with a drive lined with lush landscape and ornate fountains, things were about to change. Ground had been broken and the first phase completed for the model homes of what was to be known as IMPERIAL POINT. Haft Gaines was the builder/developer and was later honored by Life Magazine as the "Builders for Broward". They built 10 model homes on the "Street of Dreams" emphasizing customization along with quality craftsmanship. Buyers were able to determine the every detail of their home, from the style of kitchen cabinet to the tile or marble in the bathroom. Later phase homes had garden showers and sunken bathtubs.
Imperial Point was one of the first developments in the Country to be fully electric and boasted the latest General Electric appliances. In 1964, Ronald Reagan (a spokesman for G.E. at the time) visited Imperial Point to demonstrate one of the first self-cleaning ovens. When he tried it, it didn't work!
Today, the majority of the 1470 homes have been updated. There are a few who still love the original terrazzo floors and look of a carport. The loving landscaped lots are mostly 80′ by 100′ and occupied by a single family home. Skirted around the neighborhood are duplexes, apartments and condominiums. The waterfront homes in the northeast section have  ocean access with two fixed bridges. Imperial Point wasn't designed on a grid so the streets curve and only have a handful of them enter and exit the neighborhood. It is also one of the few neighborhood with sidewalks.
Imperial Point is conveniently nestled west of Federal Highway, north of N.E. 56th, east of N.E. 18th Avenue and south of McNab Road. Incorporated into the neighborhood are Coral Highlands, Westfield, and Colonial Ridge. At the northeast corner, Broward Health Imperial Point Medical Center and the neighborhoods shaded oasis of the Dottie Mancini Park. Restaurants, specialty shops, grocery stores, a hospital, a library, highly acclaimed schools, places of worship, countless services and special needs are all in a stone's throw distance.
Imperial Point is bustling all year round. There are General Membership meeting with guest speakers, and town hall issues. There are Block Parties, Neighborhood wide Yard Sales, and even some moderated "Candidates Forum" with debates on the County, State and National level. There are also some pretty big planned events through the year.
The Spring Fling is for the kids. Over 4000 eggs are tucked into every hiding place in the Park. At 9:00 A.M., the horn blows, and the ecstatic children scatter to scour every nook and cranny of the Park to fill their baskets with the hidden treats. There are prizes and a huge bounce house and lots of laughs.
The neighborhood's Signature Event is the Fall Harvest Picnic. Local restaurants and shops donate food and raffle items for the 600-700 neighbors and friends who gather at the Park on a festive Saturday afternoon in October. There is live entertainment, pony rides, a petting zoo, mounted police, a fire truck, performances and demonstrations, face painting, raffles, prizes, tons of food and fun! One year the picnic was covered by the Jim Lehrer report. Granted, it was an election year and there were quite a few candidates in attendance, but it was on the National news!
The Pet Parade has grown from a few neighbors meeting in the cul de sac, taking a stroll up and down the Boulevard and meeting back for some cool water, a few treats. Today, it is held on the Hospital grounds, and is a real pet expo. They still take the stroll, but have added, prizes, contests, services, training, demonstrations, and even massage therapy. Lots of licks and laughs!
Winter in the Park is held on a "cool" evening in December. The park is illuminated with sparkling lights to create a magical winter wonderland. The sweet aroma of hot chocolate, popcorn and cookies permeate the air. Folks anxiously await their turn to ride the horse drawn carriages and the kid's line up for the 40 foot "Snow Blowing Slide. There is lots of live entertainment and activities. One of the most popular is the design and decorate table for luminaire bags to put out on "Light the Lane" night.
There is something for everyone in Imperial Point. If you want privacy, you've got it. If you want to be social and involved, you've got that too! Aside from all of our scheduled events, there are always extra-curricular activities brewing.
We have strolled thru the neighborhood with Mayor Seiler, (twice)! We haven't missed a St. Patrick's Day Parade with our Imperial Point banner and our decked out float. Last year, the President of the Association, Betty Shelley was Grand Marshall!
The Swale Reclamation Program is currently making its way through the neighborhood and diligent strides are being made with the Green Routine Program. There is an active Code Enforcement line.  The Association's Board meets monthly and is very busy bunch. We have a Green Team where we bring our gloves and any tool that we have and spruce up the entrance and medians.
We have used those same tools to help out a neighbor in need with a Code issue. We help with the recycle project at the Starlight Musicals.
When it was discovered that the City of Fort Lauderdale's Fire Rescue units were not equipped with the lifesaving pet oxygen masks, the neighborhood response was amazing and immediate. The needed funds were raised and the masks were delivered to the Fire Department in a matter of days. We have a phenomenal Pet registrar who seems to be on call 24/7.
The Imperial Point newsletter is one of the best in town. It is pages of human-interest stories, government branch updates, local happenings, ads, how to tips, and lots of pictures! Every neighborhood has a rich history along with tales and stories and these are a few of ours.
It is a privilege to be part of the diverse and wonderful communities that comprise our fabulous City of Fort Lauderdale.