U.S. Department of Justice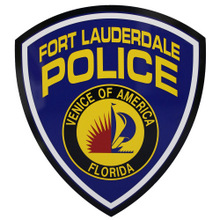 Office of Community Oriented Policing Services
145 N Street NE
Washington, DC 20530
June 17, 2016
SUBJECT: COPS Office FY2016 COPS Hiring Program Application
                    Fort Lauderdale Police Department
To Whom It May Concern,
The Fort Lauderdale Police Department is submitting an application under the COPS Office FY2016 Hiring Grant Program. They seek to hire 8 additional officers in order to enhance the capability of their Community Resource Unit to address quality of life concerns, including homelessness, social disorder and nuisance abatement, while simultaneously bridging the gap between law enforcement and those that they serve.
The Imperial Point Association, Inc. encompasses approximately 1430 residencies, mostly zoned as single family with some multi-family developments. The area is bounded by Federal Highway (U.S. 1); East McNab Road; N.E. 18th Avenue and N.E. 56th Street located within the City of Fort Lauderdale, Florida. Our Association is comprised of all volunteers from the community to provide activities to our residents to develop a cohesiveness in living in a positive setting. We also provide a free bimonthly publication to all our residents to better inform and notify them of current events. We also have monthly meetings which includes having a representative from the Fort Lauderdale Police Department reporting on current criminal activity within Imperial Point and the contiguous communities and recommended safeguards to employ to avoid becoming a victim. Despite this positive setting, we have noticed an increase in various criminal activity that plagues our community and realize the need for greater coverage by law enforcement to better protect us.
Our agency has a working relationship with the Fort Lauderdale Police Department and fully supports   their   grant   proposal   which   will   build   upon   a   comprehensive   community  policing strategy that prioritizes citizen representation, fairness, impartiality and transparency. We intend to continue this relationship in furtherance of the goals of their proposal which our agency believes is significant in order for the community to build trust in their local police department.
By customizing the law enforcement response to the particular needs of the community, the Fort Lauderdale Police Department will increase our ability to proactive strategy to engage citizenry and address specific problems at the neighborhood level. Not only will it allow local residents, agencies and businesses to be heard and participate in solving problems, but ultimately it will create   a   strong   foundation   of   communication, transparency   and   respect   amongst   the  police.
Sincerely,
Betty Shelley, President
Ralph Zeltman, Board of Directors